Flynn
Flynn, a stout, wind-burned guy with tufts of grey chest hair peeking out over a cable-knit sweater older than Sam, scraped the hull of a sailboat which was suspended by a winch inside the boathouse. In several slips were motorboats so clean their chrome was almost blinding. The same was true of Flynn's gold incisor when his lips curled back and he treated Sam to a fragrant guffaw.
"Think I'd know if a boat was taken," Flynn said, hefting one of the heavy padlocked chains mooring the boats. "Nope, they chained up good."
"Any other way this Dale kid might have gotten off the island?" Sam asked.
"Maybe he flew," Flynn offered.
"You guys have planes?" Sam asked.
"Nah, I mean, maybe he flapped his arms and took off," Flynn said. For a good five seconds Sam and Flynn just blinked at each other. "It was a joke," Flynn finally explained.
"Ah. Good one," Sam said. "Maybe he made a raft?"
"Who is this kid, Robinson Crusoe?" said Flynn. "Besides, in this current, a raft wouldn't make it past that breakwater. And I don't see any gulls peckin' at what's left of him, so I guess he didn't try."
"No one's seen Dale anywhere since yesterday," Sam said. "You're sure there's no way he could have gotten to the mainland?"
"Not 'less he knows magic," said Flynn. "All the boats are present and accounted for." He gave a mock salute. "And the ferry doesn't come again 'til Friday."
Sam noticed a few spearguns mounted on the wall.
"What are the harpoons for?"
Flynn stared at Sam without blinking. "In case," he said.
"In case what?" Sam asked. The tips of the harpoons appeared, at first, to have foil wrapped around them. When Sam looked closer, he realized they'd been plated with what looked like silver.
Flynn nodded, slowly, certainly. "I'm just ready. Whatever comes at me." He gave Sam a wink which said "we understand each other." They didn't.
"'Kay… well… thanks for your time," Sam said and happily took his leave of Flynn.
As he headed away from the dock, Sam passed a twelve-foot statue of the school's founder, Mason Alderhut. Chiseled into the statue was the same self-satisfied grin Sam had noticed on the painting in Ms. Lee's office. There was something about that smile Sam found incredibly unnerving. It wasn't a pleasant smile, certainly. There was no trace of warmth or goodwill in it. Nor was it merely pompous or self-congratulating as one might imagine playing over the lips of a wealthy man vain enough to have a twelve-foot statue of himself made. That smile betrayed a deeply sinister amusement. And it wasn't the mouth so much as the eyes. Sam had seen eyes like that before. A corporal in his company had walked up to a Vietnamese kid one day and calmly set his dog on fire. While the kid screamed and chased after the dog and tried to put her out, the corporal had just stood there smiling and quietly pissing himself. When they tightened the last strap of his straitjacket and packed him into a chopper, he was still quietly smiling, his eyes the same as Mason Alderhut's: wet and electric, the pupils vanishing points.
Sam stood for a long while in the massive shadow of Mason Alderhut, trapped by those horrible eyes. He was about to tear himself away when he noticed that peeking out from beneath Mason Alderhut's marble cloak was part of a necklace. It appeared identical to the mold Laura had given him.
---
About the author: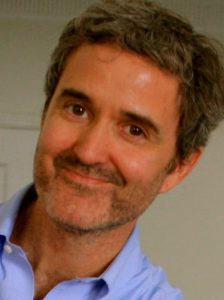 An Emmy-nominated television writer with over forty produced scripts, Stephen Lloyd lives in Los Angeles with his wife, daughters and dog. This is his first novella.