Chapter 1
Springsteen, Bowie, Pink Floyd and Fleetwood Mac snaked out different windows. A rainbow-colored Frisbee sailed over the quad, hovered for a moment lost in the sun's blaze, then wafted downward until it was dragged to earth in the jaws and slobber of a leaping Rottweiler. A gaggle of barefoot teenage boys with facial hair dyed unnatural colors and twisted into pitchforks or pincers tousled the Rottweiler's head. A dozen starved-looking kids from the cross-country team sprinted past in a glistening blur of Dolfin shorts. An Asian boy with an orange mohawk wearing a sleeveless Black Flag T-shirt, camo pants, combat boots and dog collar dabbed at fresh piercings with rubbing alcohol. He scuttled between a pair of glossed and pretty teenage girls who shared grimaces and icks with their glossed and pretty teenage boyfriends, the four of them tall, blonde, tan and sockless in docksiders, khakis and pastel Lacoste tennis shirts. A tall, pimpled kid wearing a navy blazer and a Ronald Reagan button the size of a salad plate snatched a pentagram necklace off a plump girl all in black except for her dark purple lipstick. She smacked his glasses off and called him a Nazi.
It was a diverse group, Sam noted, in every way but one. They were all stinking filthy rich. At least, that's what Sam assumed. He didn't really know what tuition at a school like this was, but it had to be astronomical. They had their own island for fuck's sake, twenty square miles off the New England coast. On it were indoor and outdoor tennis courts, basketball courts, squash courts, Olympic pools, a soccer field, football stadium, hockey rink, horse stables (for the polo and equestrian teams), a television studio, three theaters and a science lab you could probably smash atoms in. Every building looked like it was painted yesterday, and the surrounding lawns, hedge paths, rose bushes and topiaries were so meticulously groomed they made his Marine buzz cut look shaggy.
Sam sparked his Zippo and lit a Kent. A small, imperious woman leading a dozen small kids (too small to be in high school, Sam noted) scowled at him and sniffed at his cigarette. He smiled at her with a lascivious wink and French inhaled luxuriously until she huffed away, her small train in tow.
"What'd the cops say?" Sam asked Thomas Arundel, the school's headmaster, as they ambled across the quad. The headmaster was a large man with what Sam noticed was a great head of hair for a guy his age. It had gone grey, some of it white, but every follicle he'd ever had appeared still rooted. Tom's head, Sam thought, did not match his body. Above the neck, with his distinguished silver mane, his wire rim glasses and unblemished skin, he was the picture of an effete academic. Below the neck, with his rough, powerful bulk and hands the size of catcher's mitts, he looked like a dock worker or former defensive tackle.
"They sent a patrolman. Not a detective. A kid in uniform barely old enough to shave," the headmaster said. "He did a full twenty minutes of investigating which mostly involved striking up conversations with pretty female students. Since then, I've left five unreturned messages."
"They know how much its worth?" Sam asked.
Tom sighed. "Danforth Putnam is technically in West Cabot County. Last year, West Cabot County had three murders, two dozen rapes, nearly four hundred aggravated assaults and eighteen arsons. I called about a stolen book. Trust me, Mr. Gregory, they don't care what it's worth. As far as anyone on that side of the Atlantic is concerned, this is an island full of spoiled rich kids with spoiled rich kid problems, and a stolen book, even a valuable one, fits firmly in that category."
Sam more or less agreed with those on that side of the Atlantic. "Well, a place like this, obviously you have your own security."
"A very well-paid one," said Tom irritably. "So far, they've turned up nothing."
"Well, wait 'til I get their reports before you fire any of them," said Sam. His eyes fell on the Asian kid with the orange mohawk and piercings. "Halloween a few days early this year?"
The headmaster glanced at the Asian boy and sighed. "Welcome to the '80s."
---
About the author: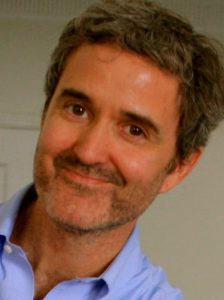 An Emmy-nominated television writer with over forty produced scripts, Stephen Lloyd lives in Los Angeles with his wife, daughters and dog. This is his first novella.