Edith Witkin had not left her house since her husband died. That was two years ago. At first, she wrote it off to extreme grief which she believed would pass. But even after her sorrow eased somewhat, she still felt unmoored, a desolation and terror that kept her glued to the seat of her La-Z-Boy recliner in the living room.
All the people in her life had eventually vanished, her few friends accepting there was nothing they could do for her, and her daughter, who never liked her much anyway. Her only contact was with her neighbors, and that only went one way. She watched them come and go day after day, and lately felt she knew them as well as she had ever known anyone.
The show started right at 7:00 A.M. when she opened the bedroom drapes. The son of her neighbor drove up in an old, brown van for breakfast. She could set her clock by his arrival he was so punctual. Edith knew he was a hopelessly devoted mama's boy because he came for dinner too, and spent all day Saturday with Mom. But in the morning, he was in a hurry to get to work, so by the time Edith brought her toast and coffee to the La-Z-Boy it was close to 7:20, and he was leaving. His leaving involved a nauseating scene where the mother came out to the door of her garage and the two waved to each other until he drove away.
It was a few minutes before the couple next door came out, both on their cell phones. The husband wore a three-piece suit and carried an expensive leather briefcase and wouldn't get home until after eight most nights. He got into a late model Lexus and drove away without saying anything to his wife or daughter, a cute little girl with pigtails, who was putting on her pink backpack and bike helmet. The wife was in yoga pants and stopped talking on her cell phone long enough to put the little girl's lunch into the backpack. The little girl kissed her mother, got on her pink bike, and rode down their driveway pedaling as fast as she could to school. Edith had started to love the little girl when she was learning to ride the bike. Her parents were never around to help her, but she was the most persistent child Edith had ever seen. She must have fallen on the ground a hundred times. Every single time, she picked herself up and got back in the saddle. Sometimes she spit on her hand to wipe the blood and gravel out of a palm, but she never shed a tear. Now her pink shoes twirled in fast, tight circles, and sometimes she even sped away with her hands off the handlebars. She would make something of herself one day. Edith just knew.
Today, the mama's boy's mother, who clearly had an aversion to sitting still in her house, backed out of the garage before the little girl got to the corner. This was just the beginning of her comings and goings—comings and goings that didn't end until at least ten o'clock at night. The woman opened and closed her garage door more often on one day than most people did in a week. Edith wondered how the mechanism held up.   
Before she returned with her usual boxes and bags (which the mama's boy would help organize on Saturday), her second son—a well-muscled and tattooed young man—came out in his bathrobe with his dog, who pooped and peed on a big dead spot on the lawn. This son had recently shaved his head and wore an army uniform on some weekends.  Edith figured he joined the National Guard. His mother, who was so happy he was doing anything, had wallpapered the back of her white SUV with bumper stickers saying things like, "my son is in the U.S. Army" and "God Bless America". This son was so mean and lazy he wouldn't even bother to pull in the empty trash barrel on Tuesdays, but waited for the mama's boy to do it when he came for dinner.
By this time Edith's coffee cup was empty. She went into the kitchen to tidy up, and then checked her bank account on the computer. Her agoraphobia, or whatever it was, caused her bank balance to keep rising. All she did was get her groceries delivered, and how much could she eat? She threw yesterday's nightgown and underwear into the laundry, took a long, hot shower, and put on today's clean nightgown, along with her old terry-cloth bathrobe. She could not remember the last time she wore clothes.
Then she went back to the La-Z-Boy to read her book. At the end of the chapter she noticed Army son was out on the front lawn with the dog, this time shirtless. Mom came home with a car full of bags, which she carried in herself, while Army son stretched and strutted outside. He ignored the mother even though she waved with a full hand. Edith was sure she did his laundry and cooked for him too.  
Around noon, Edith made herself a sandwich and watched the news at noon. She never slept well at night but managed to fall into a fitful sleep in the La-Z-Boy until the mail, came which was the highlight of her day. She heard it drop into the box and got up immediately. There were four charities requesting money and two ads. She read all of it, threw it into the trash, and sat back down in the La-Z-Boy which she sadly noticed was wearing out. The armrests were threadbare and shiny.
She turned on the TV and waited for the little girl to come home from school and ride her bike up and down the street. Sometimes she even rode up Edith's driveway, which Edith loved. Edith was watching a very boring cooking show when Army son's mom drove up and opened the garage door. She did not get out of the car immediately and Edith knew she was on her cell phone. She sometimes sat in there for ten minutes or even longer. Who did people talk to all day on their phones? Suddenly the door to the garage opened and Army son came out, this time fully clothed. Mom finally exited the vehicle and appeared to have heard something on her phone that upset her. She began gesticulating and came up close to Army son. Edith had seen them argue before in the garage and it always fascinated her, because the mother eventually gave in when the son got his car keys out of his pocket and threatened to leave. His car, in contrast to mom's, almost never left the garage.  Sure enough he got out his car keys. But this time, mom got closer and shook her index finger at him. Whoa, Edith thought. Bad decision. Army son walked briskly to his car door, turned toward his mother and said something before he got in the car, slammed the door, and in a rage backed out of the garage at great speed.
He never even looked in the rearview mirror. He never saw the little girl riding her bike home in front of his garage.  He only heard the crunch of her bike as he ran over it. Edith gasped. Before she could even think, seventy-six-year-old Edith Witkin, a woman who had not taken more than ten steps at a time for two years, ran out of her front door. She took off her terry-cloth bathrobe as she ran screaming at Army son's mother to call 911. Then Edith covered the beautiful little girl with her bathrobe and lowered herself to the filthy asphalt, her gray hair fluttering in the breeze. She was very close to the girl's face and saw her exquisite brown eyes. She gently took the girl's little hand in her own and whispered, "Don't worry. I'm going to stay here until the ambulance comes. You are going to be fine. I promise. You are going to be fine." She felt the little girl squeeze her hand, and watched a single tear run down her face. Edith Witkin was back in the world.
---
About the author: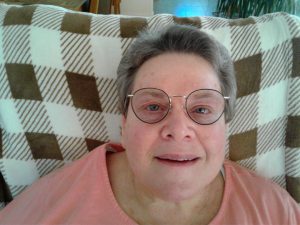 Diana Sher has been published in over eighty literary magazines, including New Delta Review, Descant, and Wordrunner Press. Her chapbook After I Cut the Cord was released in 2003 by Finishing Line Press. She is currently retired from the English Department of Metropolitan State University of Denver.